RMMV Asturias: a score for Juxtavoices
Walt Shaw & Alan Halsey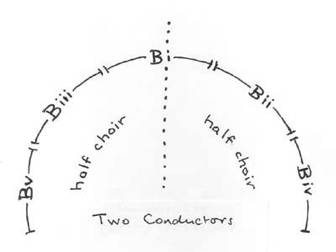 Much of this piece is performed at a whisper but all whisperers should occasionally sing their word or phrase at a higher volume. The words are clearly articulated throughout.
A. All singers sing an extended intermittent note of their choosing, starting at the edge of audibility (i.e. unvoiced breath) then slowly building. Approx 3 minutes.
B. A low, rich electronic drone starts here & continues to end of F.
Sparse percussion — softly struck bells — in this & following passage.
Singers in five mixed-voice groups:
i) at intervals whispers Asturias drawing out the syllables, tunefully, ghostlily
ii) spells out the letters RMMMVVRMVMM randomly, varying notes, in short bursts
iii) ditto with the letters RMSSPPPSSMRRMM
iv) occasionally whispers on single note Royal Mail Motor Vessel or Royal Mail Ship or
Royal Mail Steam Packet
v) occasionally whispers By Courtesy Of on ascending notes
C. B.iv & B.v join B.i now whispering RMMV Asturias
while B.ii & B.iii improvise for about 30 secs Sir or Madam / we applied
then while half the choir continues with RMMV Asturias
the other half chants, conducted in unison:
On the / to you on behalf of / of /
for the balance of an o /
Not having r /
you, to save further tr /
glad if you would let u /
in this matter per retu
repeated several times but after first iteration the rest of the singers tunefully improvise in any order:
overdue account
received any reply from
rouble we should be
s know your intentions
rn of post
duration up to 2 minutes then
D. all singers improvise, in random order, singly or in combination,
B.i sparse jumpy staccato; B.ii on intermittent ascending notes;
B.iii ditto but descending; B.iv on single intermittent extended notes; B.v spoken:
thet fofof forth sofan
ving adif atter
verdue sieve astu sacro
sadder omdeck fie
survival shad shun warned
flow vaster
accompanied by morse code sounds produced by two or three whistlers.
Duration up to 2 minutes then
E. most singers revert to whispering Asturias
except B.iv & B.v who improvise (as D but freely sung):
necklace on a rusty can
mist floats across a
darkening prom deck
shadowy hull
2 phials or vials, one of blood
and one gentian violet
wellworn driftwood floating past
3 pairs of specs, one broken
1 tin Godfrey Phillips Grand Cut
duration up to 2 minutes then
F. in which the softly struck bells of B-C & the whistled morse of D return.
B.iv & B.v join B.i whispering Asturias occasionally interjecting childlike sighs & whimpers
while B.ii & B.iii improvise (as D but freely sung or spoken):
Back Mast 10 x 8
at Southampton Docks
48 Yours etc 15-12-2
D Group on the upper deck 323078
P.J. 1st Class Prom Deck
323092 Sec
2nd Class Prom Deck 15
3rd Class Passenger Prom Deck
323088 8½ x 6½ ditto
Boat Deck looking aft
while a soprano sings to a dreamy, darkly plaintive & somewhat dysfunctional melody:
necklace drifting on a rusty balance
darkening glad you to save this
wellworn violet reply to
your shadowy intentions floating
on an overdue account of a
necklace drifting on a rusty balance
etc, repeating, gradually reducing volume until fading out half way through following passage
G. in which all singers softly & intermittently sing a sustained note with very slight glissando. When the soprano has faded out the high voices increase their glissando while the low voices drop to a bass drone. Volume increases then falls in a gradual fade.
[Total duration about 15 minutes.]
In its original form RMMV Asturias was a score for instruments and voices by Walt Shaw, recorded by Martin Archer's Orchestra of the Upper Atmosphere for their album OUA2 (Discus Records 2014). The score was based on a collection of glass photographic slides and fragments of related documents found in a flea market. The photographs, showing onboard scenes and with barely legible pencil annotations, record an early voyage of the long-serving ship which gives the piece its title. Some of the material also appears in Shaw's assemblage reproduced above. Alan Halsey used more of the documents and annotations to develop the score for the 30-voice antichoir Juxtavoices. It was first performed on 14 March 2015 at Halton Mill, Lancaster, UK.
Walt Shaw is online at WaltShaw.co.uk/.
Alan Halsey's latest books are Rampant Inertia (Shearsman, 2014) and Versions of Martial (Knives Forks & Spoons, 2015). A limited edition letterpress broadside of his After Sappho fr. 16 was recently published by Five Seasons Press. From the Diaries of John Dee, a collaboration with Nigel Wood, is forthcoming from Apple Pie Editions. Juxtavoices, which he co-directs with Martin Archer, released its first CD, Juxtanother Antichoir from Sheffield, on Discus Records in 2013. Alan Halsey is online at West House Books.