GEFÄNGNIS by Emmy Hennings
translated by John Goodby, adapted by John Goodby and David Annwn
I.
Im Süden rauscht das Wasser Seide
Wir wohnen in den schmalen Zellen
Durchs Gitter dringt in kleinen Wellen
Die Sehnsucht nach der fernen Heide.
Mein Taschentuch hat grünen Saum
Ein gelbes Feld ist in der Mitte
Und auf und ab sechs kleine Schritte.
Mein Taschentuch, mein grüner Baum…
II.
Wie siehst denn du die Welt?
Bei mir ist es so:
Schmerzend und lichterloh.
In der Katorga starb ein Held.
Und hängende Rosen blühen am See
Die Türen sind fest verschlossen.
Durchs Gitter ist Abendrot geflossen.
Dein Sohn, Madonna, dein Weh!
III.
Am Seil der Hoffnung ziehn wir uns zu Tode.
Beneidet auf Gefängnishöfen sind die Raben.
Oft zucken unsre nie geküssten Lippen.
Ohnmächtige Einsamkeit, du bist erhaben.
Da draussen liegt die Welt - da rauscht das Leben.
Da dürfen Menschen gehn, wohin sie wollen.
Einmal gehörten wir doch auch zu denen
Und jetzt sind wir vergessen und verschollen.
Nachts träumen wir Wunder auf schmalen Pritschen
Tags gehn wir einher gleich scheuen Tieren.
Wir lugen traurig durchs Eisengitter
Und haben nichts mehr zu verlieren
Als unser Leben, das Gott uns gab.
Der Tod nur liegt in unsrer Hand.
Die Freiheit kann uns niemand nehmen:
Zu gehen in das unbekannte Land.
IV.
Das war in der heiligen Weihenacht
Ich lag in stiller Zelle.
In überirdischer Helle
Der Stern von Bethlehem hielt Wacht.
"Vom Himmel hoch, da komm ich her".
Es läuten alle Glocken.
Im Sträflingskleid auf Socken:
"Ich bring euch gute neue Mär"
V.
Ich lebe im — Vielleicht.
Ich bin die grosse Frage.
Und alles sei nur Sage,
Soweit Gedanke reicht.
Es kommt das grosse Schweigen
Und hüllt mich zärtlich ein.
Kann alles anders sein…
Ich will mich hilflos neigen.
VI.
"Menschen! Bettler! Stellt euch auf!
Auf die Strasse, wo die grossen Häuser sind!
Herausfordernde Häuser."
Menschen stehen stumm an die Wand gelehnt,
Das Gesicht gestreckt gen Osten.
Die Hände in den Taschen.
Immer mehr Menschen,
Millionen stumme Menschen.
"O erbarmendes Schweigen,
O Berg des Schweigens,
Fall über uns!
Nimm uns, gütiger Satan,
Uns, deine dunklen Kinder!"
PRISON
I.
In the south, the water's silk rushes
We live in small, narrow cells
Through the bars, in little gusts,
The longing for the distant heath.
My handkerchief has a green hem
A yellow field there in the middle
And up and down six little steps ...
My handkerchief, my green tree ...
II.
So how do you see the world?
To me, it looks like this:
Going up in flames, and in agony.
A hero died in Katorga.
And hanging roses bleed by the lake
The doors are firmly shut.
Sunset has flowed out through the bars.
Your son, Madonna, your woe!
III.
We haul ourselves deathwards on cords of hope.
Ravens are envious of the prison-yard.
Our never-kissed lips often tremble.
Impotent loneliness you reign supreme.
Out there is the world — where life rushes past.
A person there may go where she wants.
There was a time when we belonged with them
And now we've been forgotten and lost.
By night, cramped in bunks, we dream of wonders,
By day we move like shy creatures.
Sadly, we peer through the iron bars
We have nothing more left to lose
Except the life God gave to us.
Only our deaths are in our hands.
No-one can take away our freedom:
To go into the unfamiliar land.
IV.
It was on Christmas Eve
I lay in a quiet cell.
In unearthly light, the star
Of Bethlehem kept watch.
'I come down from Heaven on high':
All the bells were ringing out.
In convict garb and socks:
'I bring a great new fairy tale'.
V.
I exist in — perhaps.
I am the great question.
And everything is just a rumour,
As far as thought can tell.
There comes the great silence
To tenderly envelop me.
Everything can be different ...
I want to bow down helplessly.
VI.
'All of you! You beggars! Line up!
Down on the street, where the big houses are!
Houses that are pure provocation.'
People lean against the wall, voiceless
Their faces turned to the east.
Hands in pockets.
More and more people,
Millions of speechless people.
'O merciful silence,
O mountain of silence,
Take us, Satan most kind,
Us, your dark children!'
PRISON
I.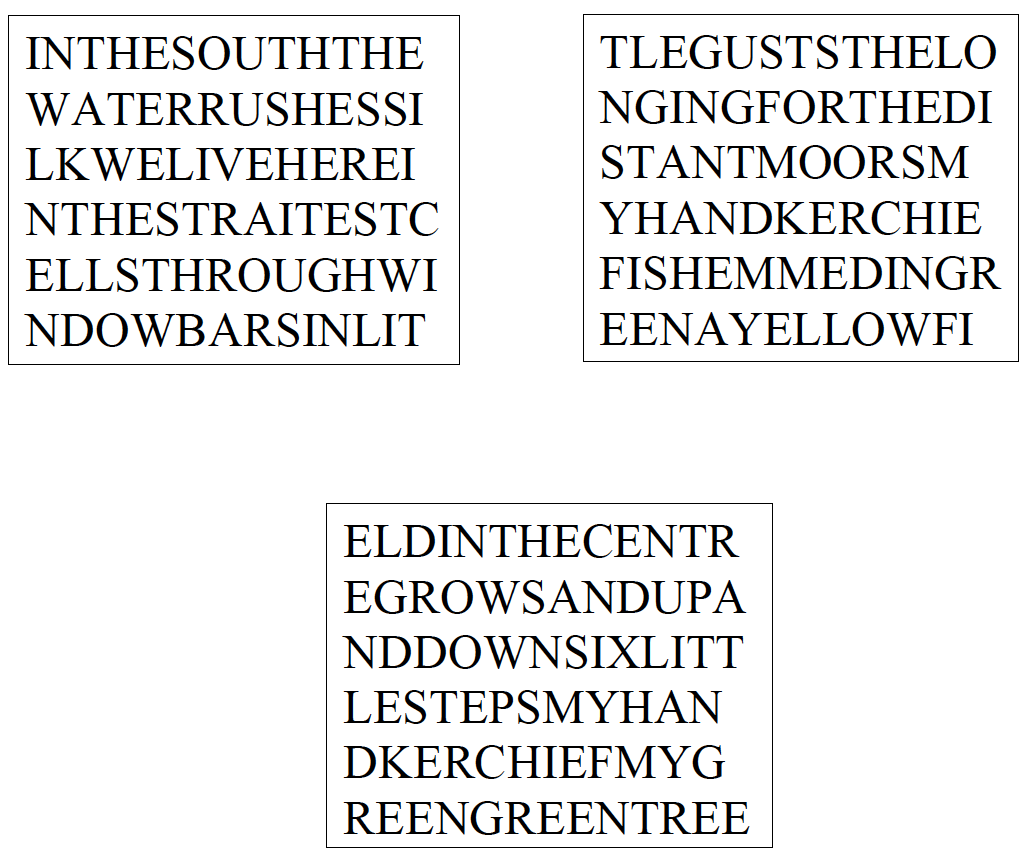 JG
II.
So how do you see the whole interface
or if you could come to it at this remove
and — is there galactic space implied
for 'me', the answerer of the anagram-poem:
to stand back from combustibility beyond the sun's
longevity, a hero
hangs bleeding strung the roses of Katorga
starvation camps
another time-zone midnight;
prison makes all — doors fast — prisoners one;
sunset's trickled out
Your Son, Madonna
yours' the bars' dimensions,
a captive of your questions are
the questions you offer to questions
DA
III.
We haul ourselves deathwards on lifelines of hope
                                             unlike the beasts we
                           thread with desire
the ravens down in the prison-yard are envied
                                             know we shall die & cannot live
                           1. no pl (a) capture (of an animal)
our never-kissed lips often trembling
                                             in the present as they so solely do
                           oft zucken Zucker sweet
o helpless loneliness you are supreme
                                             & therefore we invented hope      
                           (exalted) (magnificent) (sublime)
there outside is the world there life rushes
                                             hope is what we must lose not
                           a blind force roars
there people may go when & wherever they please
                                             in order to become animal
                           pure Will rules
once we were of their company & had our place there
                                             again but to pass
                           taken down from the doch
now we have been forgotten & lost in oblivion
                                              beyond the limits of the puppet
                           dis/appeared dissed displaced
by night we dream miracles on plank beds
                                             the most important thing we ever do
                           Wunder our wound
by day we move like terrified beasts
                                             each day is not kill ourselves
                           creatures creatures shy at
sadly gazing thorough the iron bars
                                             & the only way to deal
                           a grating on the ungreat
we have nothing left to lose
                                             with an unfree world
                           which is our los
except our life which was a gift of God
                                             is to become so absolutely free
                           a cold love on high
our death alone remains within our power
                                             that our very existence
                           a bird in the hand
that inalienable freedom we cannot lose
                                             is an act of rebellion
                           to go unknown to vanish
of travelling into the unfamiliar land
JG
IV.
A made place,
                              quiescent cell.
It could be 'Zur heiligen Weihnacht' by Adolph Kolping
the shepherd's son, or a million
others devotionals in Deutschland Gothic fractura
It is a world of printer's shops
homilies caught inside cells receding in Droste
effect vanishings, into Nuremburger
child-like miniscule
except for the convict
rags and bells, you wake forgetting
you're in fairytale no
DA
V.
I exist in — pure Perhapsness — Maybe
Who knew — knows — asks
if I'm the great Question —
& all beyond is Rumour
as far as Mind ever — grasps
It arrives — great expected Silence
& tenderly wraps me round —
Can it — it can?   all be              different
Helplessly          I bow down
JG
VI.
"All of you"
It's the big "Stellt euch auf!" round-up
rhyming with Raus Raus
on Fat Cat strasse
subsistence's
gape envy
diastolic
the voicelessness and leaning
takes no prisoners
not like these:
it is not us, but was the places you whatever EH
else
as we slouch to onlook panorama
more and more
'millionen' requires no trans-
Lation
the pocketed hands
lines of
voided
O
sil(                   mountain             )ence
appeal to Satan
your risk of 'uns' 'uns' sun
darkly occluded
in absence
of
DA
John Goodby lives near York and works at Sheffield Hallam University.  He is the author of several works on Dylan Thomas, including the annotated centenary edition of the Collected Poems (Orion 2014 / New Directions 2016).  His poetry includes Illennium (Shearsman, 2010) and The No Breath (Red Ceilings, 2017); among his translations are Heine's Germany: A Winter's Tale (Smokestack, 2005), No Soy Tu Musa: antología de poetas irlandesas with Carlota Caulfield (Torremozas, 2008) and Adel Guémar's State of Emergency (Arc, 2007), with Tom Cheesman.  He is the editor, with Lyndon Davies, The Edge of Necessary: Welsh innovative poetry 1966-2018 (Aquifer / Boiled String, 2018).
David Annwn worked for the Open University in Leeds and Manchester for many years and is based in Wakefield, Yorkshire.  He is an expert on the Victorian phantasmagoria magic lantern show and Gothic writing and film, the author of Gothic Effigy: A Guide to Dark Visibilities (Manchester University Press, 2018) and Sexuality and the Gothic Magic Lantern: Desire, Eroticism and Literary Visibilities from Byron to Bram Stoker (Palgrave, 2014).  Among his many poetry publications, collaborations and translations are the spirit / that kiss (North and South, 1993), Bela Fawr's Cabaret (West House, 2008), Disco Occident (Knives Forks & Spoons, 2013), Dreaming Across the Wake Field (2017), Red Bank (Knives Forks & Spoons, 2018) and Resonance Field (Aquifer, 2021).